Fumes and Flip-out Follow Flaming Fimo Fiasco
I know everyone is sick of all things Christmas, but I thought I'd share one last related post.
I'm afraid my holiday crafting this year was rather unsuccessful, to put it mildly. I've long dreamt of making some ornaments like these ones that have been in the family since I was a kid:
Unfortunately, this is what I managed to create: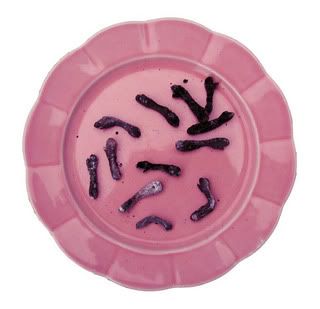 The original ornaments have pipe-cleaner arms. I thought I could improve upon that by using Fimo (that plastic-y clay that gets baked in the oven). I spent several hours making arms, and the next day set out to bake them. It seemed silly to heat up the whole oven for something so small, so I decided to use our toaster oven that was tucked away, unused, in the pantry. Unfortunately, it seems that I don't know how to operate these crazy newfangled devices, and I managed to toast them instead.
I noticed the problem before it was too late, and changed the settings. I must not have changed them enough, though, because the next time I looked I saw flames. And I'm not talking about those measly dripped-cheese-off-of-a-bagel sort that we've all caused. These were fairly tall and of the leaping variety. The fates were smiling upon me, because not only do I own a kitchen fire extinguisher, but I actually knew where it was (which is more than I can usually say about my car keys, my hairbrush or whatever sweater I'm looking for).
I actually thought the whole thing was pretty funny. That is until I discovered that miniscule black cinders had made their way onto every exposed surface in our kitchen (and several cupboards were open), My sense of humor was greatly diminished when, several hours later, I was handwashing the fortieth sinkful of dishes. And our house absolutely reeked.
On the plus side, I discovered that death by Fimo cancer was unlikely, since even flaming Fimo is not carcinogenic. Sheesh, if I had known that, I would have saved the detergent and dishpan hands and just waved the dustbuster in the vicinity of our dishes and called it good.