Free LuRay Makes My Day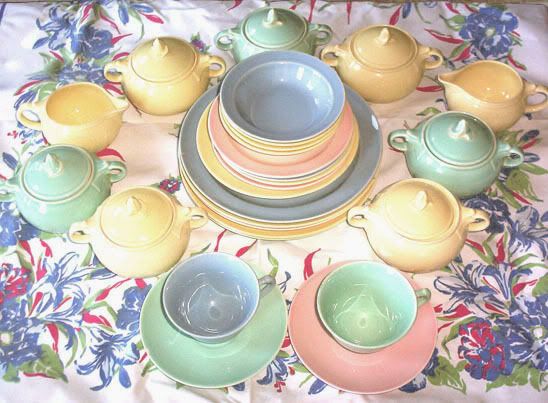 I never intended to collect Lu Ray. It's a little too girly and delicate. Somehow, though, its cheerful pastel colors and whimsical shapes managed to win me over.
At first I would just gather it here and there when a reasonably priced piece would present itself, and slowly a collection grew. Believe it or not, all the Lu Ray in the top photo was found by Davis during two different trips to the dump. Some men might find it emasculating to scavenge such dainty pieces of porcelain, but Davis is secure in his manhood and he knows a good thing when he sees it. Now I just need to get him to build a Lu Ray showroom like the one in the bottom picture! It's from the April 2004 issue of Country Living - an issue that is so chock full'o'fabulousness that I still take it out to drool over from time to time (there's a pink stove in there that makes my knees go weak!). I'm afraid I don't have near the collection that that the magazine featured, but it gives me something to work toward.